If you know of someone or would like to be featured yourself in our "Alumni Focus" section, please email us at the following address: alumnifocus@commercetigers.net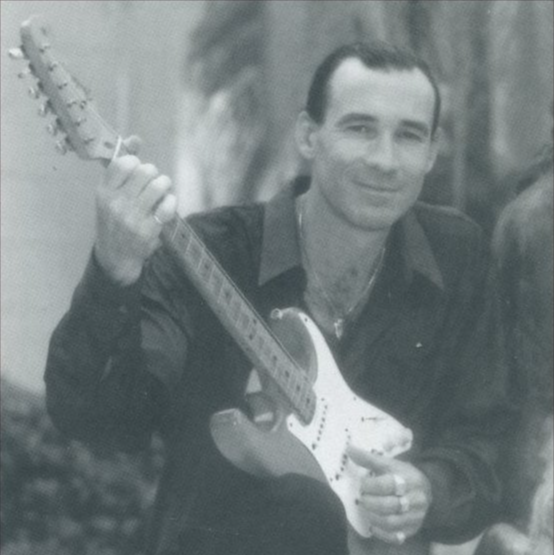 ACE MOORELAND
Ace Mooreland was inducted to the Oklahoma Jazz Hall of Fame in 2007. Ace, born in 1952, died at the age of 50. However, during that half century, Ace Moreland etched his name in the history book of blues. He was part Cherokee and all bluesman. A want-to-be-guitar player since age five, Moreland played in his first band by the time he was 12.
Once he figured out enough of the guitar to know his way around the fret board, he concentrated on learning how to play slide guitar, harmonica, drums and basically whatever instruments he came across. After an apprenticeship on the Tulsa rock-blues scene, Ace and his left-handed guitar went to Macon, Georgia in the 70s. He hung on the fringes of the Capircorn-Allman Brother scene for three years before returning to Oklahoma, where he gigged with local heroes like the Cate Brothers. Opening slots for Bonnie Raitt, Taj Mahal, .38 Special, George Thorogood, John Hammond, Steve Gaines, Leon Wilkerson and much of the Lynyrd Skynyrd Band soon followed. Afterward, he relocated to Jacksonville, Florida with the band in 1987, and formed the Ace Moreland's West Side Story. He signed with King Snake Records. He played with his band and another band, Midnight Creepers.
His voice evolved into a perfect example of the Ozark sound, not surprising, considering his Oklahoma roots. His guitar work became cleaner and more filled with soul . . . his writing became better and better.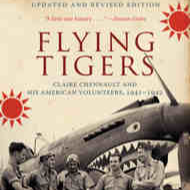 ARNOLD SHAMBLIN
Arnold Shamblin was a 1937 Graduate of Commerce High School. He went on to attend Northeastern A&M College and graduate in 1939. After NEO, Shamblin would enlist in the Army Aircorps (Air Force). In 1940, He became a pilot and later became a flight instructor for the air corps. Shamblin would leave the military in 1941 to join a volunteer group in china serving as a pilot and instructor. The group was named The Flying Tigers. Shamblin was wing man on the 2nd squadron. With the Flying Tigers, he would participate in numerous bombing raids over Japan. After just seven months, The Flying Tigers were disbanded. Shamblin would again volunteer, this time to stick around for two weeks assisting with training the Tigers replacement unit, the 23rd Fighter Group of the U.S Army air corps. According to records and eyewitness reports, Shamblin was one of four pilots who had taken up planes on July 10, 1942 to bomb the Japanese Intelligence Headquarters and surrounding river boats. Two of the planes returned and reported that the first plane had been hit by Japanese fire. The plane had crashed and pilot was killed. The returning pilots thought Shamblin was flying behind them and never saw anything happen out of the ordinary. Later, a missionary on the ground reported that he had seen a plane crash and the Japanese captured a redheaded pilot (Shamblin). The missionary also testified that he had heard reports the Japanese had taken a red headed pilot to P.O.W. camp for interogation. The whereabouts and what happened to Shamblin are still a mystery to this date. Shamblin was the only Oklahoman in the famed Flying Tigers and in 1994, the chief of staff of the US Air Force presented remaining survivors and family members of survivors, 'The Distinguished Flying Cross', the top Air Force honor.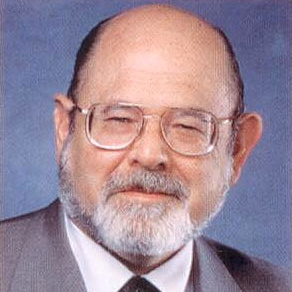 COLLIS GEREN
Collis Geren earned a bachelor's degree from Northeastern State University and a master's degree from Pittsburg State University in 1972. In 1974, He earned his doctorate from Oklahoma State University. Currently, Geren serves as a professor, dean of graduate studies and vice provost for research at the University of Arkansas. In 1986, Geren was awarded the Faculty Achievement Award at the University of Arkansas. He would receive a grant from the National Institute of Health for study leading to an antidote for the brown recluse spider bite. Geren has contributed more than 40 articles to scientific publications and has addressed papers before state and international conferences. In 2007, Pittsburg State University honored him with one of its highest honors, 'The Meritorious Achievement Award'.
---Collis Geren, Class of 1963, The University of Arkansas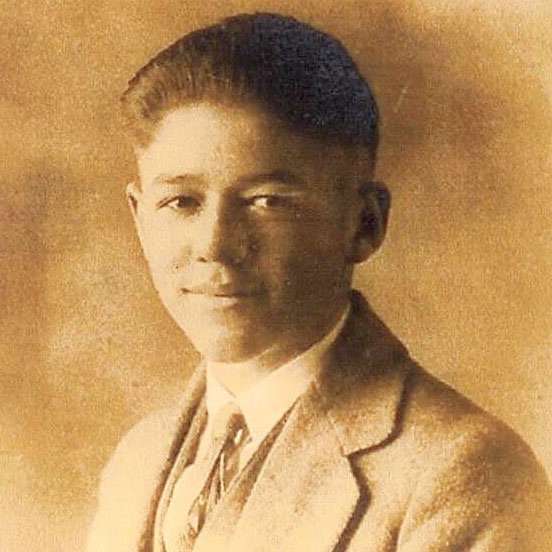 CONRAD CALDWELL
Conrad Caldwell did not compete in wrestling at Commerce High School and had never seen the sport until he enrolled at Oklahoma State where Hall of Fame coach Edward C. Gallagher recruited him from a gym class and promised to turn him into a national champion.
He won the National Collegiate championship in only the fifth bout he ever wrestled, but that title was just the beginning of Conrad Caldwell's spectacular career. His pre-tournament experience consisted of two matches as a substitute heavyweight. Then in three bouts as a 165-pounder in the 1929 NCAA meet, he fulfilled Coach Gallagher's prophecy. He repeated at 175 pounds, in 1930 and 1931 to become only the third wrestler to win three collegiate crowns. In 1932, he moved to California and competed five years for the Los Angeles Athletic Club. The only defeat of his career came in the first round of the 1932 Olympic trials. He came back to win those trials at 191 pounds, only to see another wrestler chosen to take part in the Los Angeles Games. Through 1936, Caldwell was unbeaten from 174 pounds through heavyweight-- and on one occasion, all three weights at one time. In a 1933 duel meet with UCLA, he weighed in at 174 but found his teammates 191 and heavyweight were absent. He pinned the UCLA 174- pounder, won a decision at 191 and after a 10- minute struggle pinned the heavyweight, an all-Coast football tackle.
In recognition of his achievements as one of wrestling's pioneer champions, Conrad C. Caldwell is honored as a Distinguished Member of the National Wrestling Hall of Fame.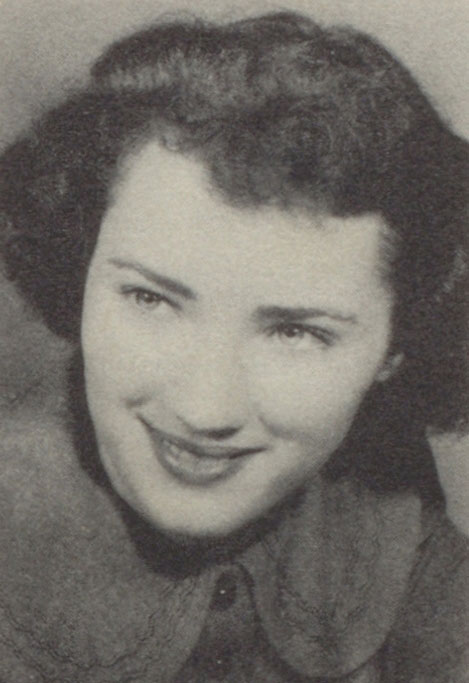 DOROTHY CRESAP
Born in Commerce, OK, on March 12, 1932, Dorothy Cresap was the daughter of Hanson B. and Susan (Lynch) Cresap. She attended public schools in Commerce and graduated from Commerce High School in 1949. Mickey Mantle was one of her classmates there. Dorothy received her B.S. in Education from Kansas State Teachers College (now Pittsburg State University) in Pittsburg, KS, in 1952. She excelled as a debater both in high school and at KSTC.
In September 1952, Dorothy began her teaching career at Emporia (Kansas) High School, where she taught speech and English classes, coached the debate and public speaking teams, and met her future husband, Jim. After teaching two years in Emporia, Dorothy enrolled in the Graduate School of the University of Missouri at Columbia, Missouri. She received a Master of Arts degree there in May 1955. She continued her graduate studies at Louisiana State University in Baton Rouge, Louisiana, during the 1955-56 academic year. Following her wedding to Jim on August 26, 1956, Dorothy began her college teaching career as an assistant professor at Washburn University in Topeka, KS. She taught public speaking and debate classes as well as coaching the university's intercollegiate debate teams for four years. Her debaters at Washburn achieved national recognition.
In September, 1963, Dorothy accepted an appointment as assistant professor in the Speech (now Communication) Department at Northern Illinois University in DeKalb, IL. She taught at NIU for the next forty years, retiring in May, 2003. Among the courses she taught at Northern were Argumentation and Debate, Rhetoric and Public Address, Discussion, Speech Writing, and Introduction to Public Speaking. One of her major responsibilities there was her work on the Forensics Staff, coaching NIU's intercollegiate debaters. She loved teaching and derived great satisfaction from her work.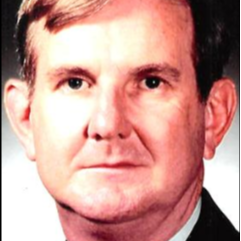 JOHN WAYNE WRIGHT
Following his retirement from the Air Force, John joined USAA as a Claims Representative and was subsequently selected to assist in the creation of the critical and much needed Military Affairs Unit. As the Military Affairs Director, he led a diverse team of retired military officers and senior NCOs in developing business relationships that would span the globe and reach nearly every military installation. This elite unit grew significantly in mission and in stature and continues its presence worldwide to this day.
Chief Master Sergeant John Wright retired from the Air Force September 30, 1993, as Commandant of the Tactical Air Command Noncommissioned Officer Academy, Bergstrom Air Force Base, Texas. Prior to that, he was assigned to Headquarters Tactical Air Command as Chief, Tactical Air Command Noncommissioned Officer Professional Military Education, Langley Air Force Base, VA.
In March 1984, the Chief transferred to Peterson AFB, CO, as executive to the Chief of Staff, Headquarters North American Aerospace Defense Command, Aerospace Defense Command and Space Command. In July 1985, Chief Wright became the first Senior Enlisted Advisor for the 2d Space Wing, (Consolidated Space Operations Center) at Falcon AFB, CO, later to be renamed Schriever Air Force Base. In October 1986, he became the Senior Enlisted Advisor for Air Force Space Command, Peterson AFB, CO.
Chief Wright also had assignments to Camp H. M. Smith, Hawaii as Assistant NCOIC, Personnel Division Administration, with the Commander in Chief, Pacific Air Forces. In 1972, Chief Wright returned to Hawaii where he was assigned to Headquarters, Pacific Communications Area, Hickam AFB, HI, as Chief, Administration, Deputy Chief of Staff, Electronics; Assistant Chief, Command Section Administration and Chief, Administration Communications Branch. In July, 1975, he became Chief, Unit Administration, Headquarters Pacific Air Forces. From August 1977 until 1980, he served as the Chief, Command Section Administration and executive officer to the Commander, 6960th Electronic Security Wing. Chief Wright also served at DaNang Air Base, Vietnam from July 1965 to July 1966.
John Wayne Wright was born July 14, 1942, in Miami, OK. He graduated high school in Commerce, OK, married Mary Catherine Osburn of Commerce, OK, and joined the Air Force all in 1960. They have three children, Stacy Deltoro, Steven Wright and Michael Wright and four grandchildren, Matthew Deltoro, 1stLt Taylor Wright, Kiana Wright, and Mitchell Wright.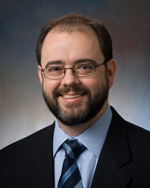 JACK PRICE
Jack Price, MD was raised in Commerce and attended the Commerce Public School system from elementary to high school. During his high school years, Price was active in the student council and played percussion in the band. He graduated valedictorian of his class in 1985. He states that one of his best memories of high school was the Friday night football games and the annual rivalry with Picher high school. After graduation, Price received his undergraduate and medical degrees from the University of Oklahoma. He then completed his medical internship and residency at the Washington University School of Medicine in St. Louis, MO. A post-doctoral fellowship in pediatric cardiology then followed at Baylor College of Medicine in Houston, TX. Currently, Price is an assistant professor at the Baylor medical school and is an attending physician in the Texas Children's Hospital Heart Center at the Texas Medical Center in Houston. He serves as medical director of the ventricular assist device program and cares for children with acquired and congenital heart disease in the cardiovascular intensive care unit. His research focuses mainly on pediatric heart failure. Price has authored several articles which have been published in peer-reviewed medical journals and received the "Outstanding Research Award in Pediatric Cardiology" from the American Heart Association.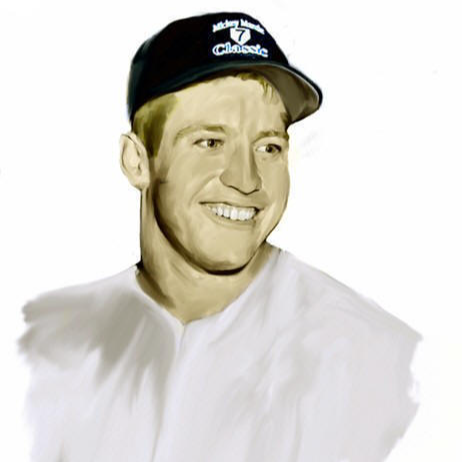 MICKEY CHARLES MANTLE
Mickey Charles Mantle was born on October 20, 1931 in Spavinaw, Oklahoma, but moved to Commerce just a few short years later. As soon as Mickey was old enough to swing a bat and throw a ball, Mickey's father Mutt and grandfather Charlie pitched to him everyday after school in front of a leaning tin barn by their house at 319 S. Quincy in Commerce, OK. (This is where Mickey lived until he was 14. The home and barn are going through a complete restoration to honor Mickey and the Mantle family.) Mutt, a righty, and Charlie, a lefty, taught Mickey to switch-hit by alternating pitching to him so that Mickey could learn to hit from both sides of the plate. The tin barn acted as a backstop.
By the time he reached high school Mickey's ability was well beyond that of his contemporaries. He was a gifted athlete, playing not only baseball but also football and basketbal. At sixteen Mickey played with a local semi-pro team, the Baxter Springs Whiz Kids. Although players usually were considered for the Whiz Kids only after turning age 18, Mickey easily fit in with the older players, becoming one of the best players in the area. Word of Mickey's ability, however, hadn't spread beyond northeastern Oklahoma. That was about to change...