AES Para Job Opening for 22-23 School Year Come Join Our Team!

We would like to recognize the following students who achieved academic excellence the second semester at Alexander Elementary. Congratulations goes to...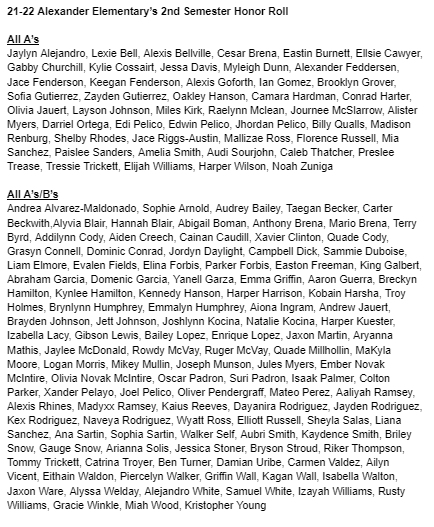 Please see attachment concerning lost and found items. Thank you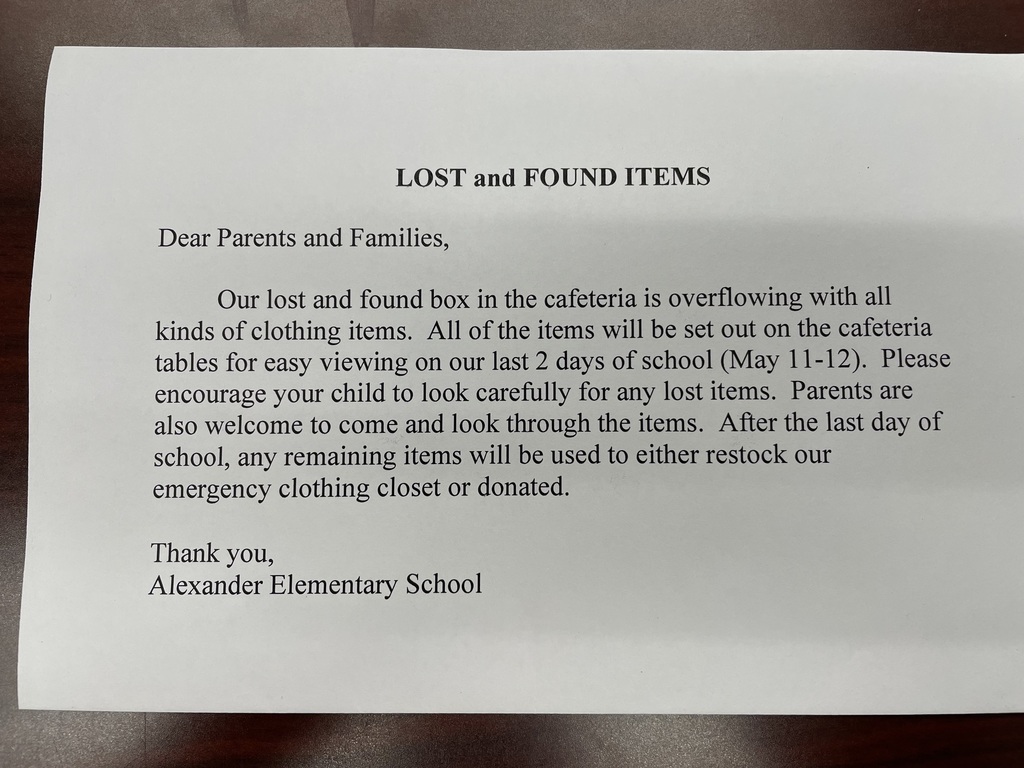 More pictures of our students who got to be Principal of the Day! These kids have been doing lots of reading and were a big help to Ms. Guthrie! Pictured are Jaxon Martin, Shelby Rhodes, Edwin Pelico, Taegan Becker, and Campbell Dick. Great job kids!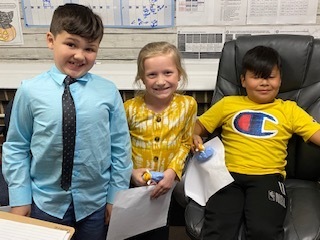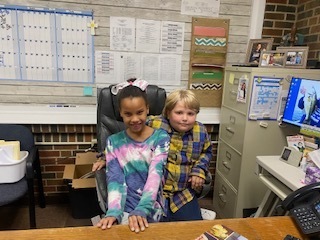 https://5il.co/8hbh
Athletic Physicals - Monday, May 9 Physicals will take place throughout the school day. $10 and Physical Form must be signed by the parent. Forms are being sent home with students and they are also available at the link above. This is for next year's 6th-12th grades.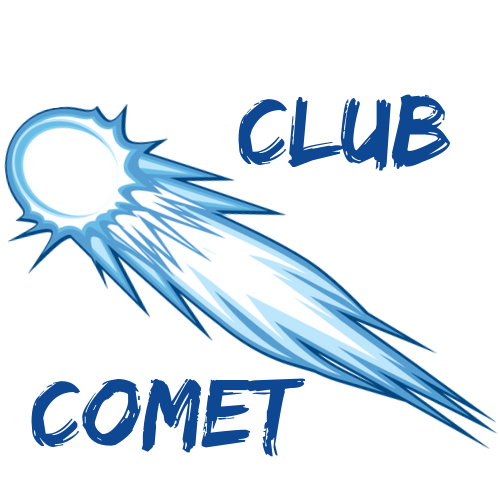 Mr. Brough and Ms. Guthrie have both had some relaxing days as we have had so many students making their reading goals and getting to be Principal of the Day! Here are some great principals we have had over the last few weeks! Congratulations to Jace Riggs, Oakley Hanson, Catrina Moyer and Conrad Harter!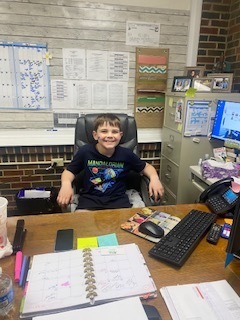 Hello Parents/Guardians, We've moved the Elem. Track Meet to Monday (9th) due to impending rain this week. Thank you.
Transfers – If you want your student(s) to attend Commerce Public Schools next school year, you may now apply for a transfer. 1. IF YOUR STUDENT(S) CURRENTLY ATTEND(S) COMMERCE ON AN OPEN OR EMERGENCY TRANSFER AND FINISH THE SCHOOL YEAR IN GOOD STANDING, YOU DO NOT HAVE TO APPLY. Your child(ren) will be grandfathered in. **Reminder** Transfers can always be denied due to attendance and/or discipline reasons. 2. The transfer law was changed by our state legislature last year and there is now a hard capacity that the Commerce School Board is required to set. 3. The open transfer application and policy can be found on our website. Documents must be completed and returned IN-PERSON. We are now accepting these applications IN-PERSON at our administrative offices at 217 Commerce Street, the office is open from 8am-4pm daily. 4. Decisions on Open Transfer requests will not be made until July. You will be notified about your acceptance or denial. IF you are denied, you can be placed on a waiting list for possible open positions when school begins in August. 5. If your student is on transfer and you do not plan on them returning to Commerce for the 2022-2023 school year please notify Jodi Trease at 918-675-4316 Ext 111.


Hello Parents/Guardians, Attached is our May AES Newsletter. Thank you.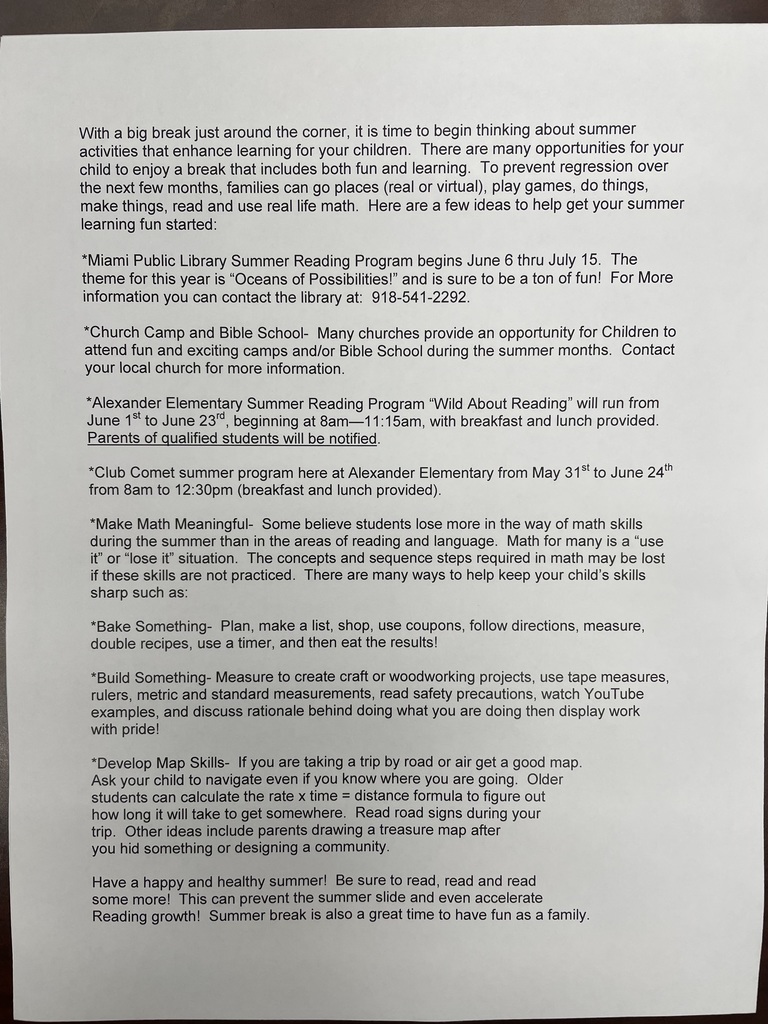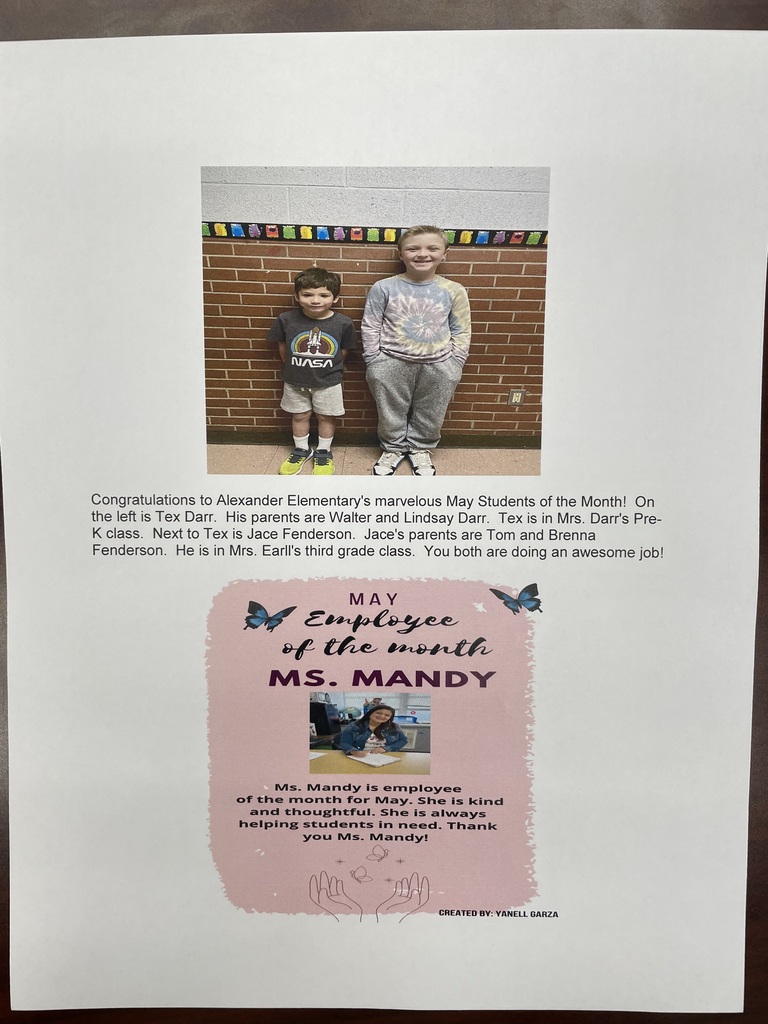 Congratulations to our marvelous May Students of the Month. On the left is Tex Darr. His parents are Walter and Lindsay Darr. Tex is in Mrs. Darr's Pre-K class. Next to Tex is Jace Fenderson. Jace's parents are Tom and Brenna Fenderson. He is in Mrs. Earll's third grade class. You both are doing an awesome job this year!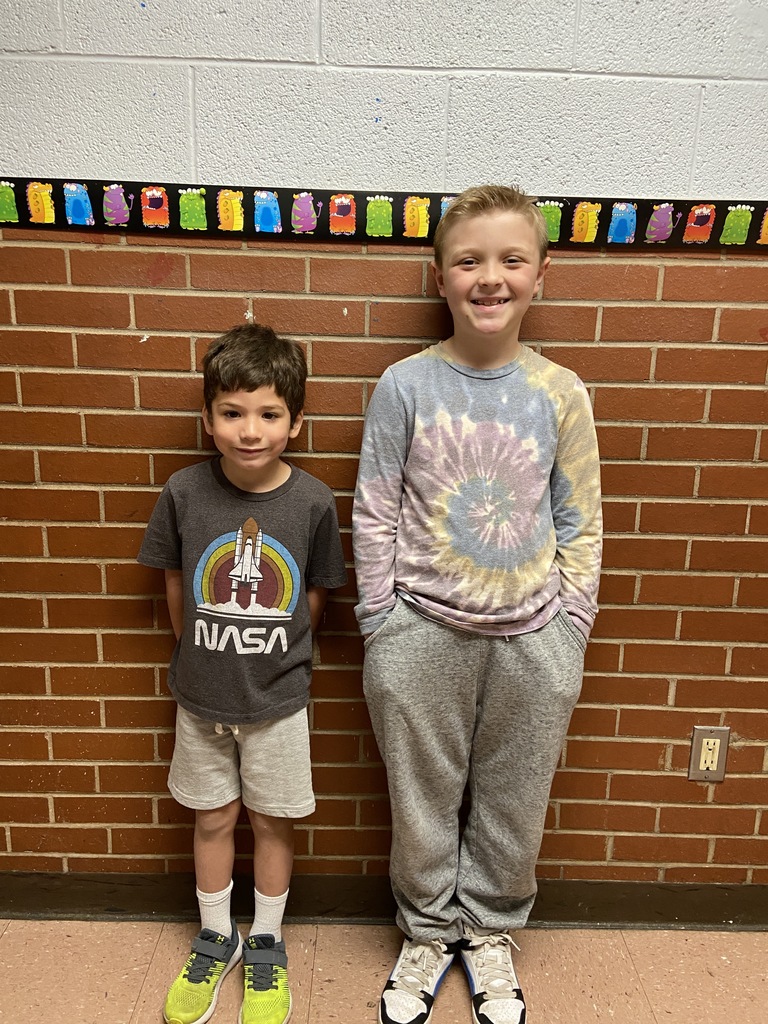 We want to recognize our outstanding teachers next week for "Teacher Appreciation Week", May 2nd--6th. Thank you teachers for your hard work and commitment to our students at AES!


Alan (Mr. Guck) McGuckin who has made a living as a marketing guy in the bass fishing industry for the past 27 years, representing brands such as Toyota Trucks, Carhartt, Terminator Lures, Costa eyewear, and Yamaha, shared his on-going passion for all things fishing, ecology, and nature by teaching a simplified lesson about the "Freshwater Energy Food Chain Pyramid." 4th graders used popcorn to represent plankton, goldfish crackers to represent primary consumer baitfish, and largemouth bass cupcakes to represent the predator portion of the energy pyramid. Thank you Mr. McGuckin!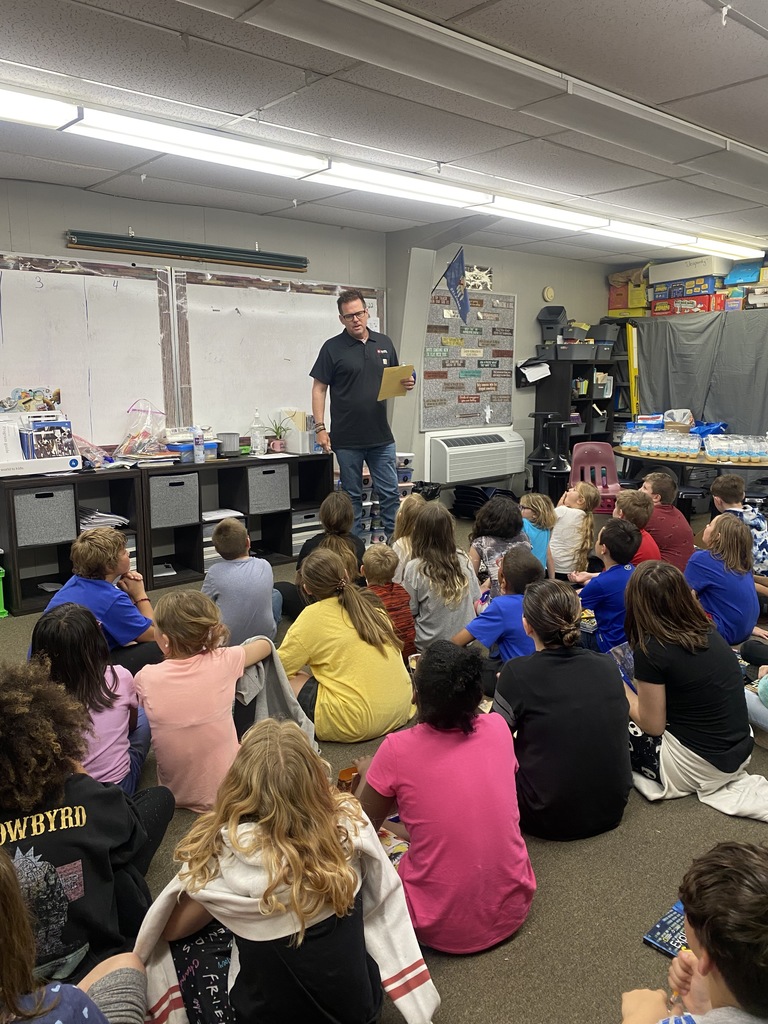 We would like to thank the Miami Police Department, including Chief Anderson and Detective Crockett. They spoke to our 4th and 5th graders about summer safety and their police drones. The students loved learning about how drones help law enforcement agencies. Thank you Mrs. Myers for arranging this event!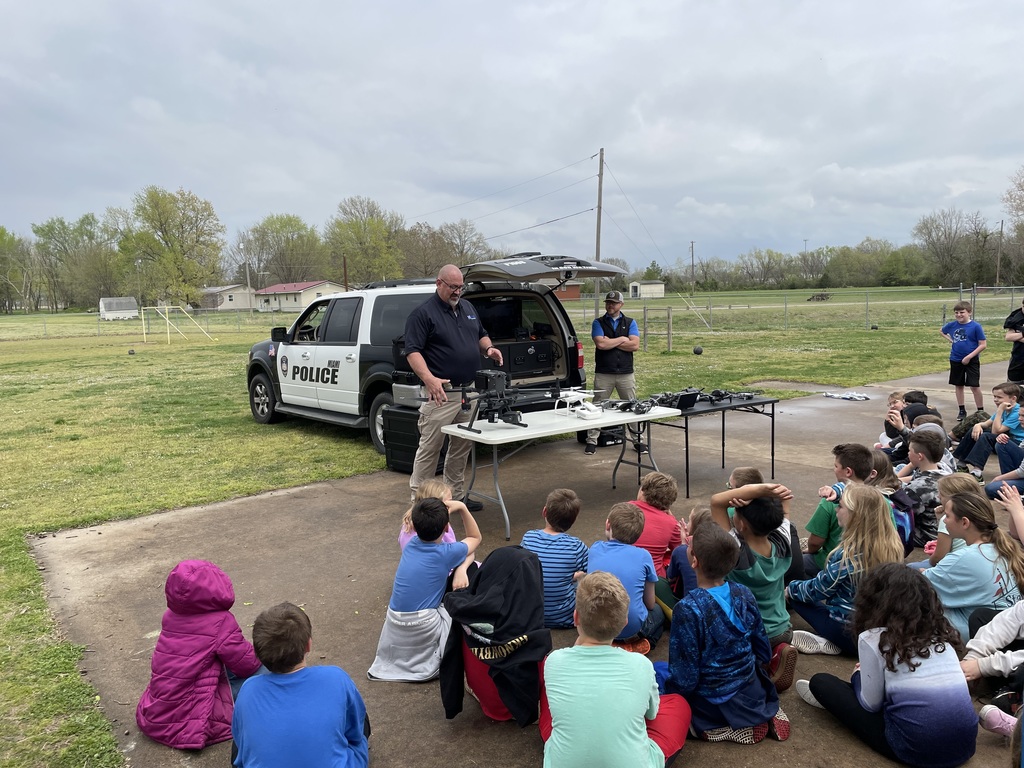 Current Job Vacancy Listings Apply Today!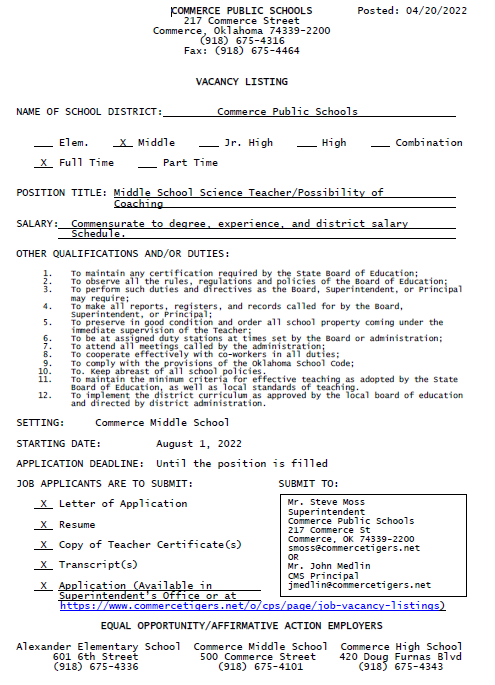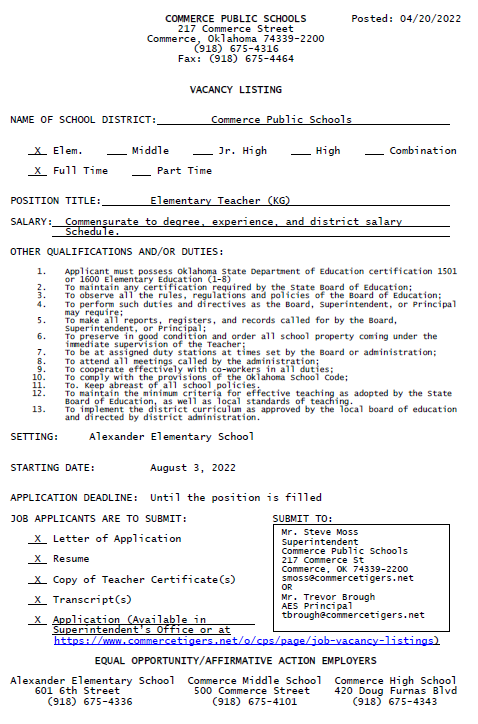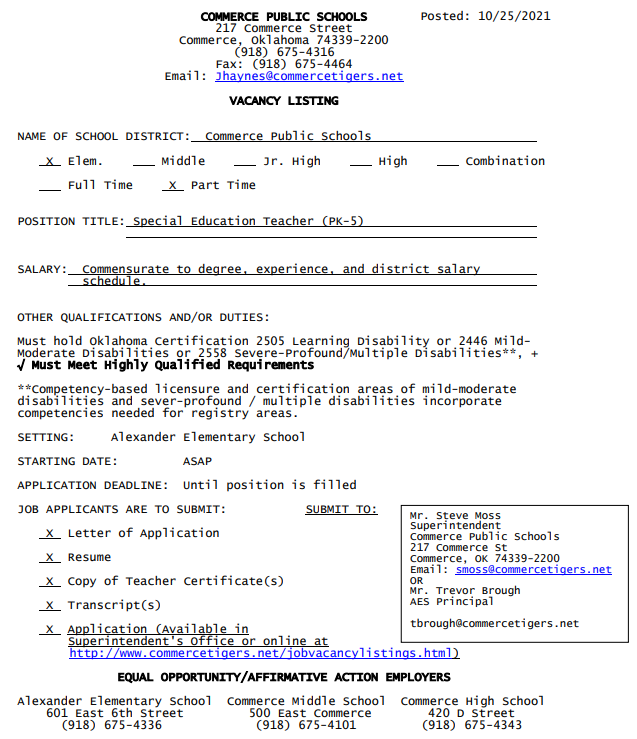 Parents, You are invited to our JOM/Indian Education parent committee meeting to be held at 217 Commerce Street at 1 pm on April 21, 2022. The agenda is attached.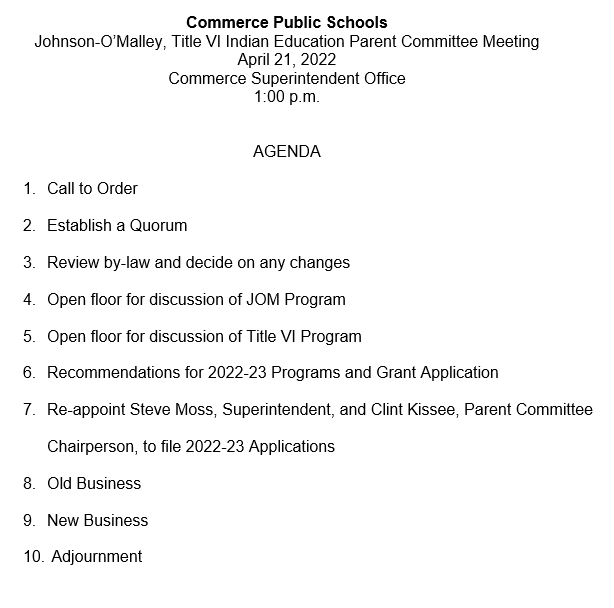 Quapaw Nation upcoming events of interest!

There will be no Club Comet on Friday, April 22nd. Our summer staff will be meeting to plan our summer!! Sorry for any inconvenience this may cause. We are excited for our summer program! Hurry and get your child signed up today.
https://forms.gle/y163zGdyqVanD2H17
Commerce Schools is looking for a new PK-5 Special Education teacher for the 2022-2023 school year.
https://forms.gle/gkoJNadABNUuvLkP8
If you are interested in enrolling your child in the Club Comet summer program follow the link above to complete your application. Space is limited and spots are filled on a first come, first serve basis.