February 5-11
High School Basketball at Fairland tomorrow - February 3, 2023. This will be Fairland's homecoming and senior night. The varsity boys will play first with the varsity girls game to follow.

Commerce schools will be back in session tomorrow, February 2nd. We look forward to having everyone back for in-person instruction.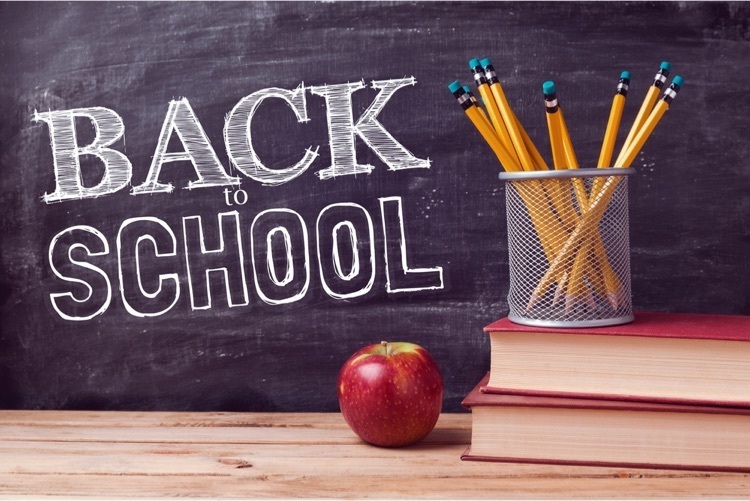 Commerce Schools will be closed on Wednesday, Feb 1st. No School and No Virtual School. Stay safe and warm.

Commerce Schools will be closed on Tuesday, Jan 31st. No School and No Virtual School. Stay safe and warm.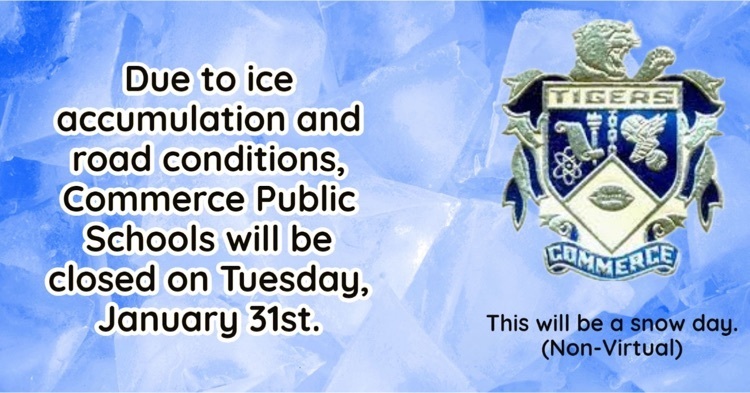 It's a Snow Day! January 30, 2023 will be a no instruction day. Please stay safe and warm.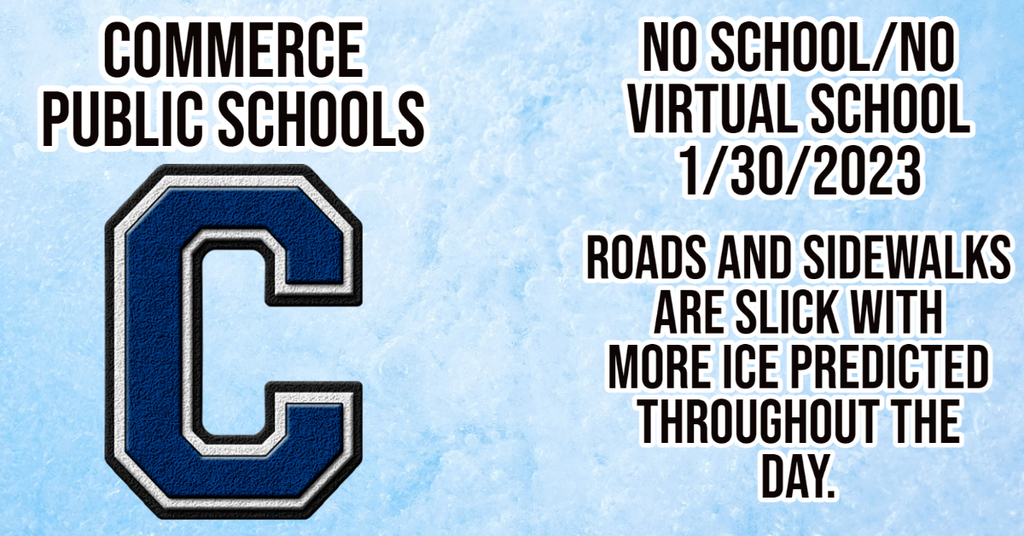 Jan 30 - Feb 3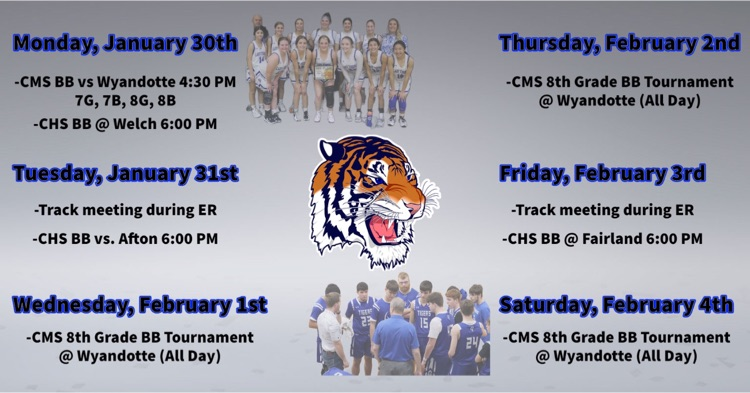 We recently received our School Pride® donation from TTCU Federal Credit Union for the second half of 2022. Thank you for swiping your TTCU School Pride® debit card and giving back to our district! If you don't have one, get yours today! #ttcuSchoolPride @TTCUCreditUnion @ttcu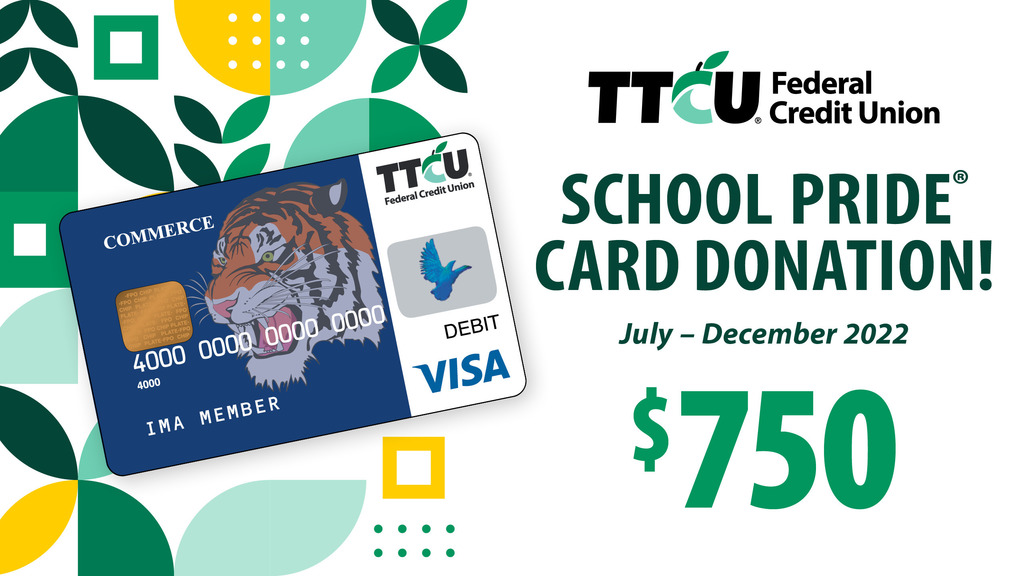 Commerce Public Schools will have a virtual day on Wednesday, January 25, 2023. Students have been instructed on how to participate. Please stay safe and warm.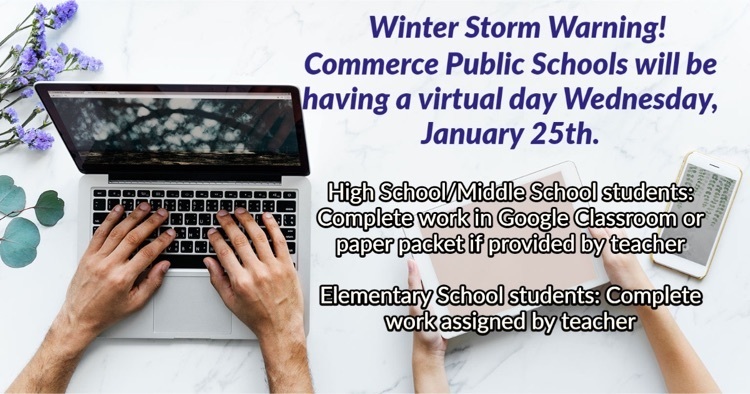 The after school programs at AES and CMS are being canceled today. After school weightlifting at the high school is also canceled.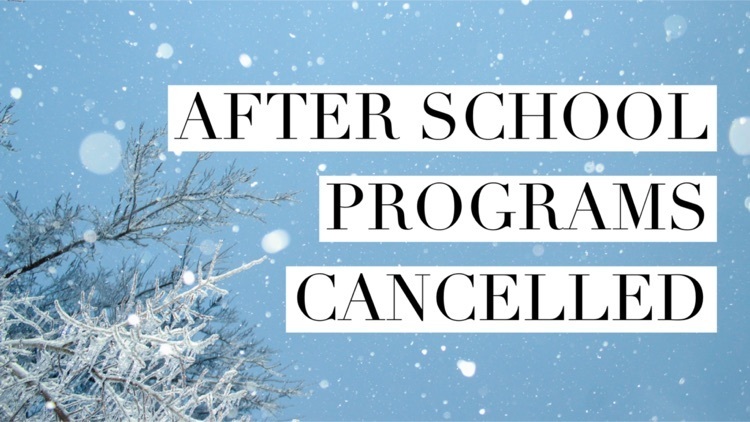 Tonight's basketball games at Welch have been postponed. We will reschedule at a later date. Snow is on the way. Stay safe.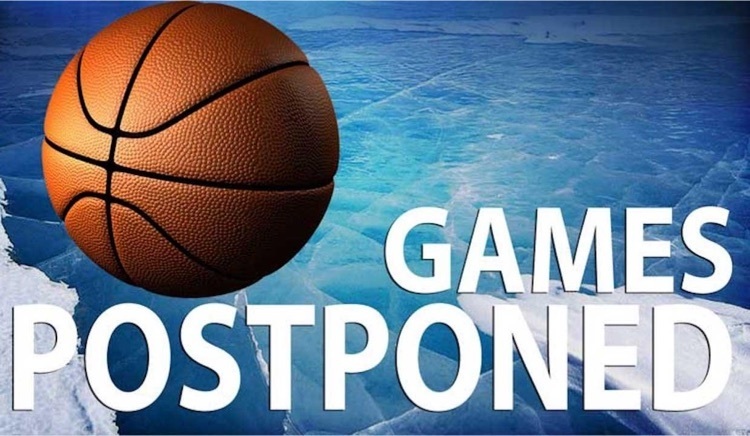 Update! The Commerce Vs Welch varsity basketball games for tomorrow, 1/24/23 have been moved up due to the threat of ice and snow. Varsity Girls will play at 4 pm with Varsity Boys will follow. Please stay safe!

Jan 23-28
Commerce Schools and all of our staff continue to work hard to educate students on the dangers of vaping products. The school district has made a significant investment in vape sensors for our middle and high school to help us in the battle. Parents, if you haven't, please take the time to talk to your children about the danger of vapes. The national numbers are trending up again and we're unfortunately seeing some of the same here locally. State law deems it unlawful for any person under 21 years of age to purchase, receive or have in their possession any nicotine or vapor product. Here is a copy of the Oklahoma Law for your reference - §10A-2-8-224. Purchase, receipt or possession of tobacco or vapor products by those under 21 prohibited - Falsifying proof of age - Penalties. A. It is unlawful for a person who is under twenty-one (21) years of age to purchase, receive, or have in his or her possession a tobacco product, nicotine product or vapor product, or to present or offer to any person any purported proof of age which is false or fraudulent, for the purpose of purchasing or receiving any tobacco product, nicotine product or vapor product. It shall not be unlawful for an employee under twenty-one (21) years of age to handle tobacco products, nicotine products or vapor products when required in the performance of the employee's duties. B. When a person violates subsection A of this section, the Alcoholic Beverage Laws Enforcement (ABLE) Commission shall require the violator to complete an education or tobacco use cessation program approved by the State Department of Health. C. The ABLE Commission shall establish rules to provide for notification to a parent or guardian of any minor cited for a violation of this section. D. For the purposes of this section, the term "vapor products" shall have the same meaning as provided in the Prevention of Youth Access to Tobacco Act.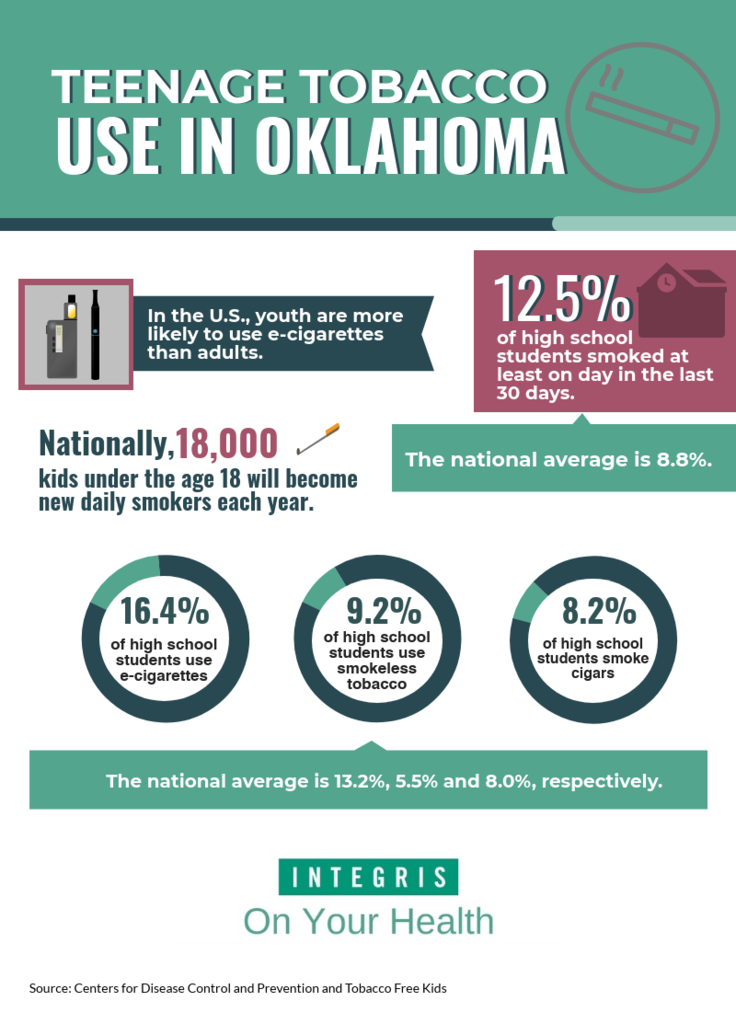 Commerce Middle School will have vision checks available on February 2, 2023.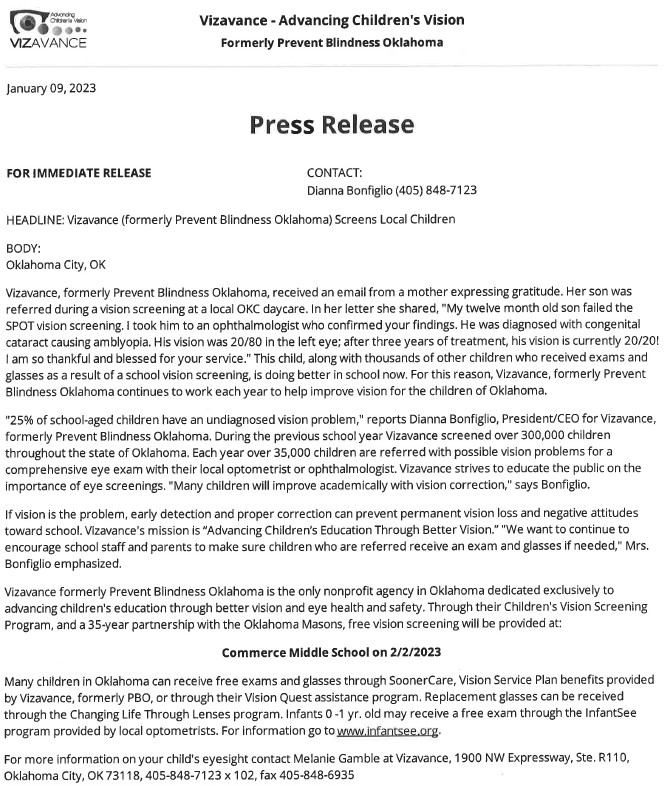 Martin Luther King Jr Day Observance No School Monday, January 16 2023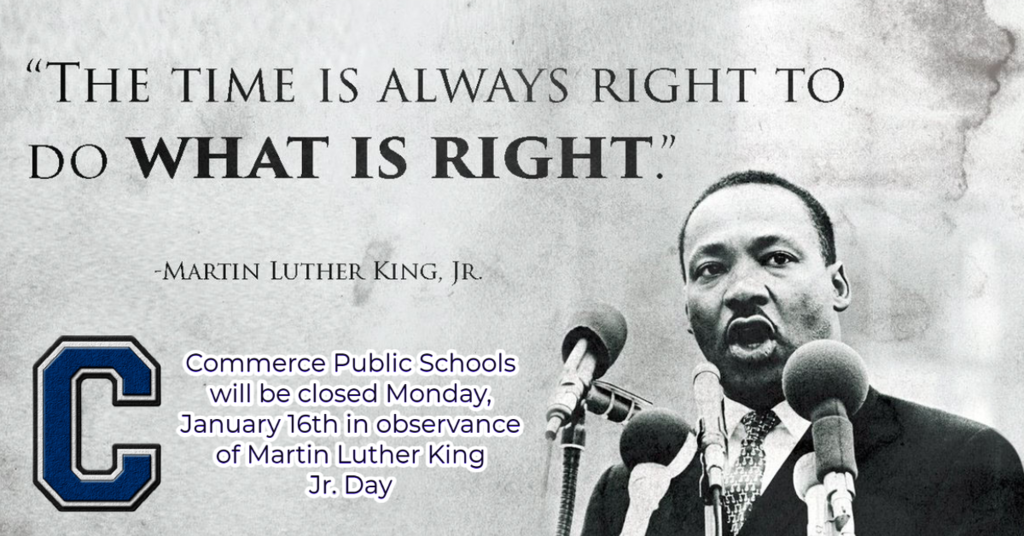 Commerce School Events January 16-23, 2023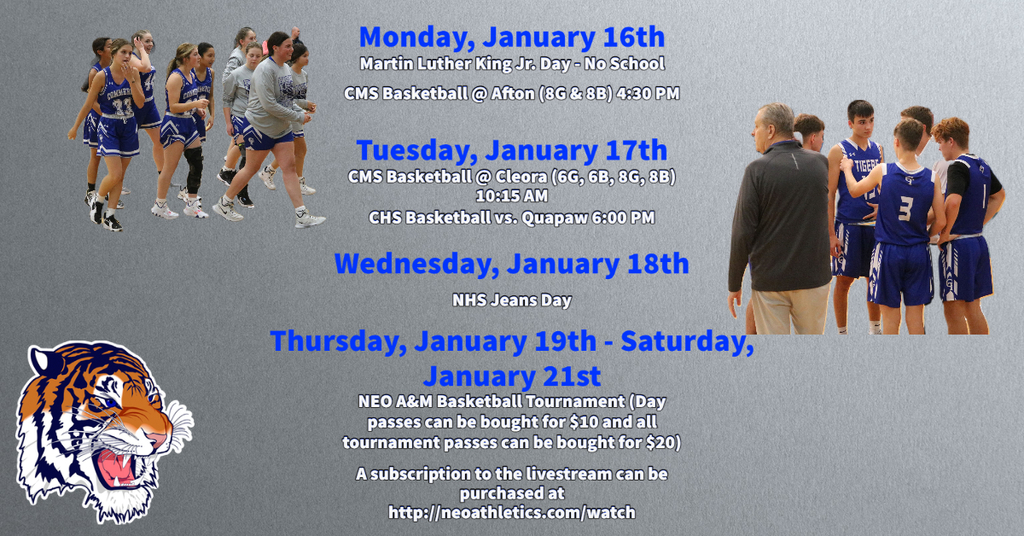 Commerce Community - The first layer of rubber is going on the high school track today. It looks great and we're so excited to have track meets returning this spring. The track will be closed periodically though the next several weeks. We have hung caution tape at the entrances. Please help us by staying off of the track while the workers are working and our new surface is drying. The track will need to stay closed to all traffic from now until January 23rd for this phase of work. Thank you! Go Tigers!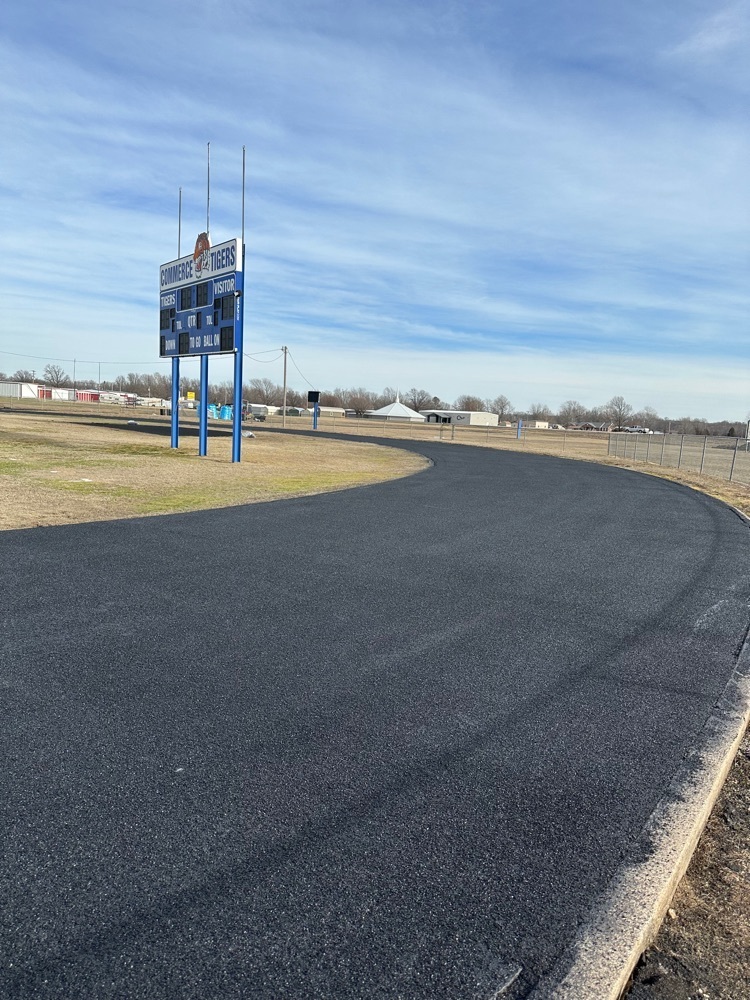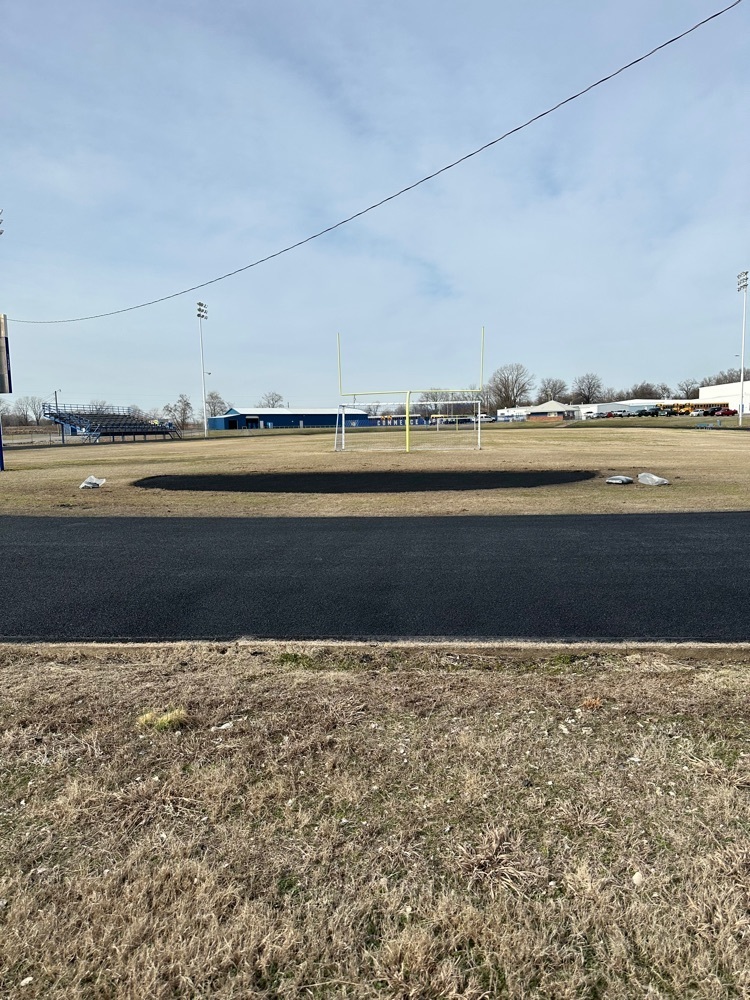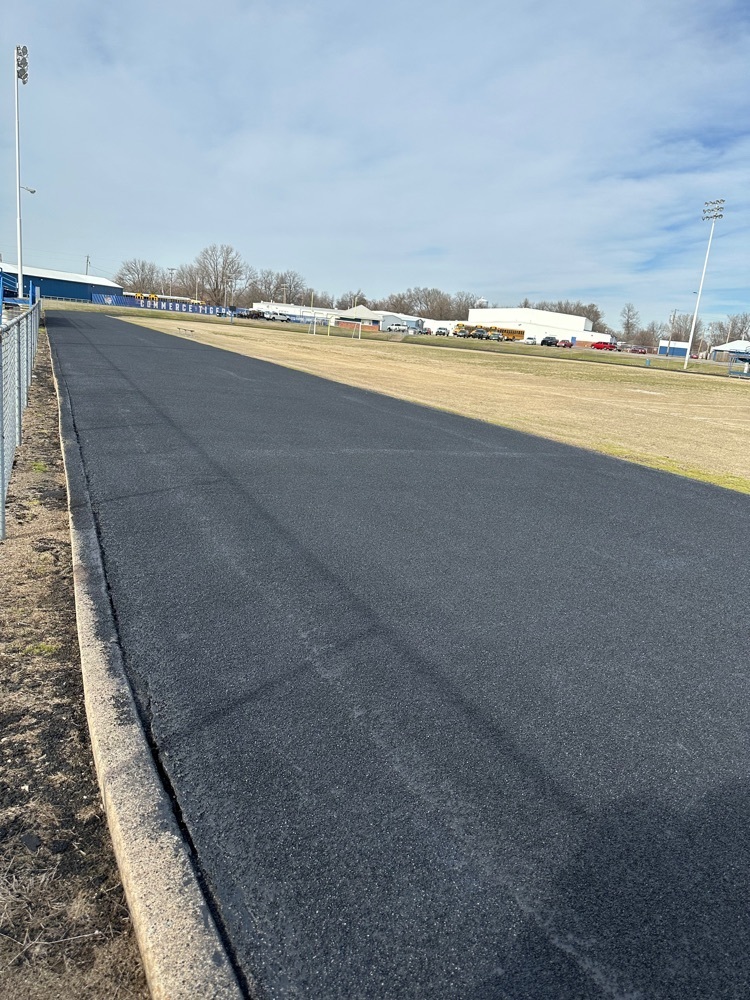 Commerce School Events January 8 - January 14 2023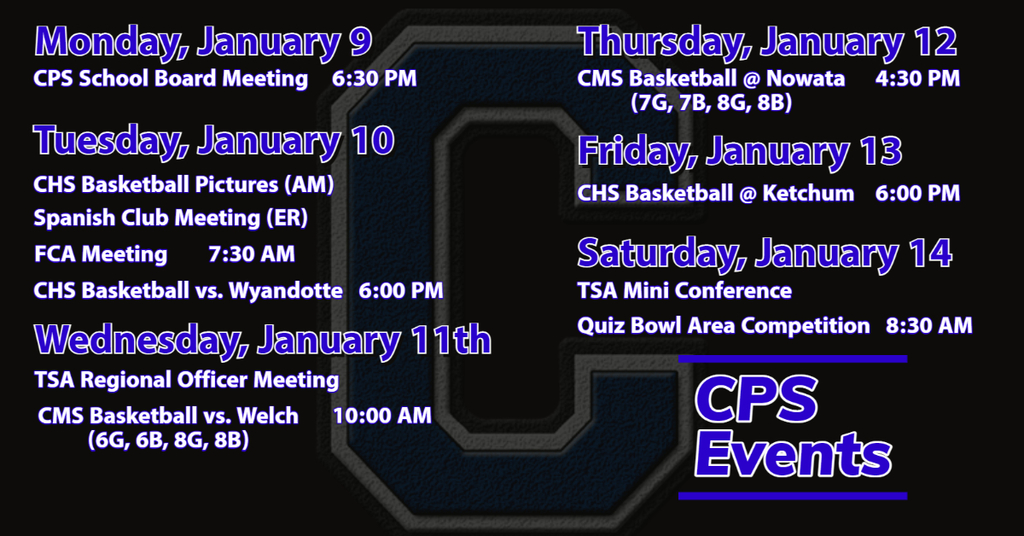 January 3rd - Teacher Professional Day January 4th - Students Return for First Day of 2nd Semester Parents please remind students to charge their Chromebooks before they return to school.