AES Para Job Opening for 22-23 School Year Come Join Our Team!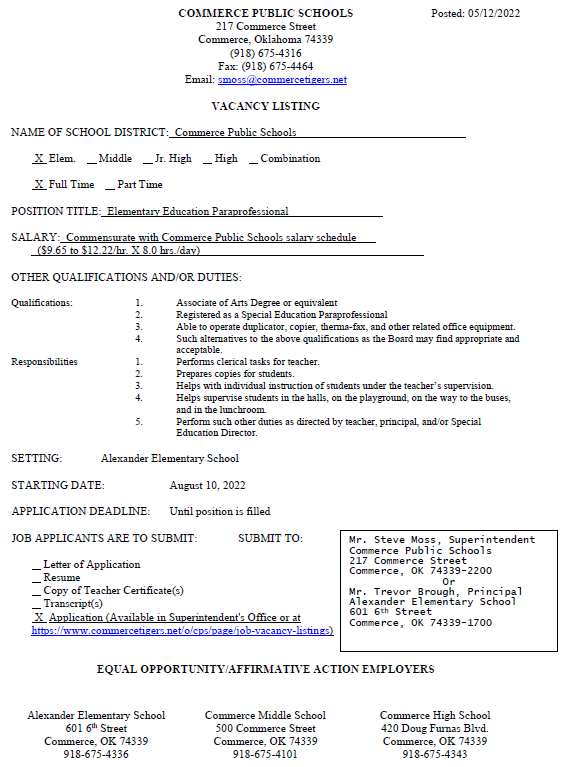 https://5il.co/8hbh
Athletic Physicals - Monday, May 9 Physicals will take place throughout the school day. $10 and Physical Form must be signed by the parent. Forms are being sent home with students and they are also available at the link above. This is for next year's 6th-12th grades.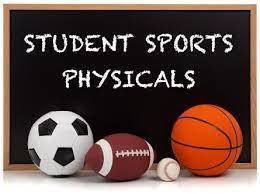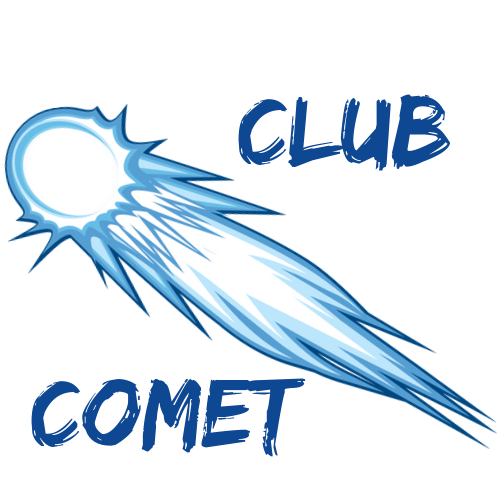 Parents: Angela Bieberdorf Activities/Clubs: Science Club, and Choir After Graduation, I plan to go to college, study law and become a lawyer. I also want to open up my own bakery.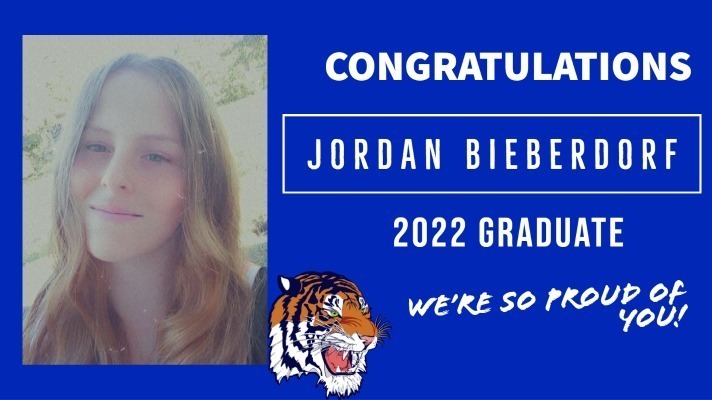 Transfers – If you want your student(s) to attend Commerce Public Schools next school year, you may now apply for a transfer. 1. IF YOUR STUDENT(S) CURRENTLY ATTEND(S) COMMERCE ON AN OPEN OR EMERGENCY TRANSFER AND FINISH THE SCHOOL YEAR IN GOOD STANDING, YOU DO NOT HAVE TO APPLY. Your child(ren) will be grandfathered in. **Reminder** Transfers can always be denied due to attendance and/or discipline reasons. 2. The transfer law was changed by our state legislature last year and there is now a hard capacity that the Commerce School Board is required to set. 3. The open transfer application and policy can be found on our website. Documents must be completed and returned IN-PERSON. We are now accepting these applications IN-PERSON at our administrative offices at 217 Commerce Street, the office is open from 8am-4pm daily. 4. Decisions on Open Transfer requests will not be made until July. You will be notified about your acceptance or denial. IF you are denied, you can be placed on a waiting list for possible open positions when school begins in August. 5. If your student is on transfer and you do not plan on them returning to Commerce for the 2022-2023 school year please notify Jodi Trease at 918-675-4316 Ext 111.
Parents: Jeremy and Misty Hailey National Honor Society- 2 years Football-4 years Baseball- 4 years Powerlifting-3 years FCCLA-3 Years FCA- 3 Years Honor Roll - All 4 Years Freshman- Boy of the Year Co-Most Valuable Player- Baseball 2021 Offensive Player of the Year- Baseball 2019 and 2021 Defensive Player of the Year- Baseball 2020 First Team All-District Football- 2019,2021 All-District Catcher-3 years All-Conference Catcher- 3 years Regional Powerlifting Champion- 2 years State Powerlifting Champion- 2 years Electrical Program at Northeast Technology Center-2 Years Chosen to participate in On the Job Training for Electrician Program- Senior Year. My plans after graduation are to further my electrical career by pursuing a full Electrical License, High Voltage Lineman Program at OSU IT or continuing my education on a Baseball Scholarship to Ottawa University in the fall, majoring in Education.
https://forms.gle/gkoJNadABNUuvLkP8
Club Comet's "Adventure Awaits!" summer program will continue taking applications through Friday, May 6. Click the link above to get your students signed up today. Fun educational activities for all (Current PK-8), don't miss out!!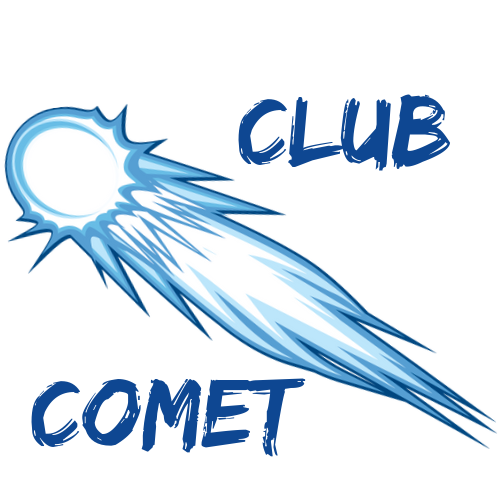 Parent: Susie and Kevin Crafton Activities/clubs: NHS, GT, Science club, Art club, Native American club Honors: Co-Valedictorian After graduation I plan to attend Missouri Southern State University majoring in pre-med, than on to medical school, pursuing a career as a pediatrician.

Congratulations to Brandon Cochran - 4th place in Shot Put at Regionals. Good luck to Brandon on getting pulled in for State. Go Tigers!

Girls 4x400m takes 6th at Regionals! Listed from left to right: Lacy Brough, Baylee King, Hannah Young, McKenzie Carter and Raegan Wilson. GO TIGERS!!!!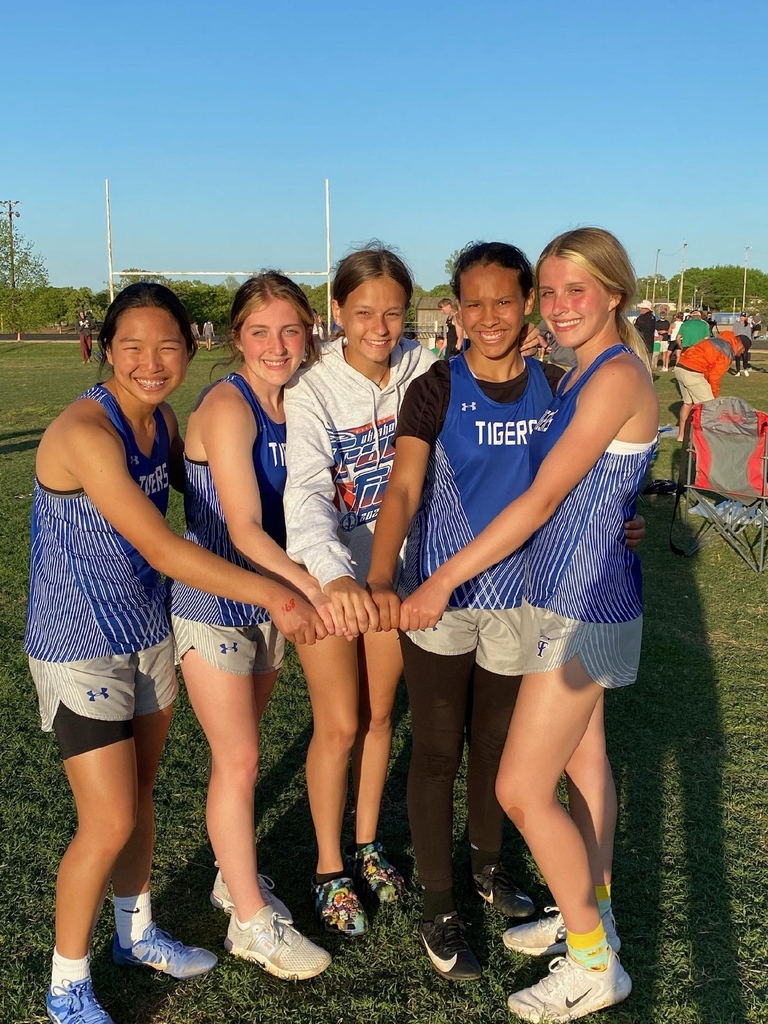 Congratulations to Baylee King - 6th place in 300m Hurdles at Regionals. Fingers crossed her time gets her pulled in for State in this 2nd event. Baylee already qualified in the 4x800m earlier today. Go Tigers!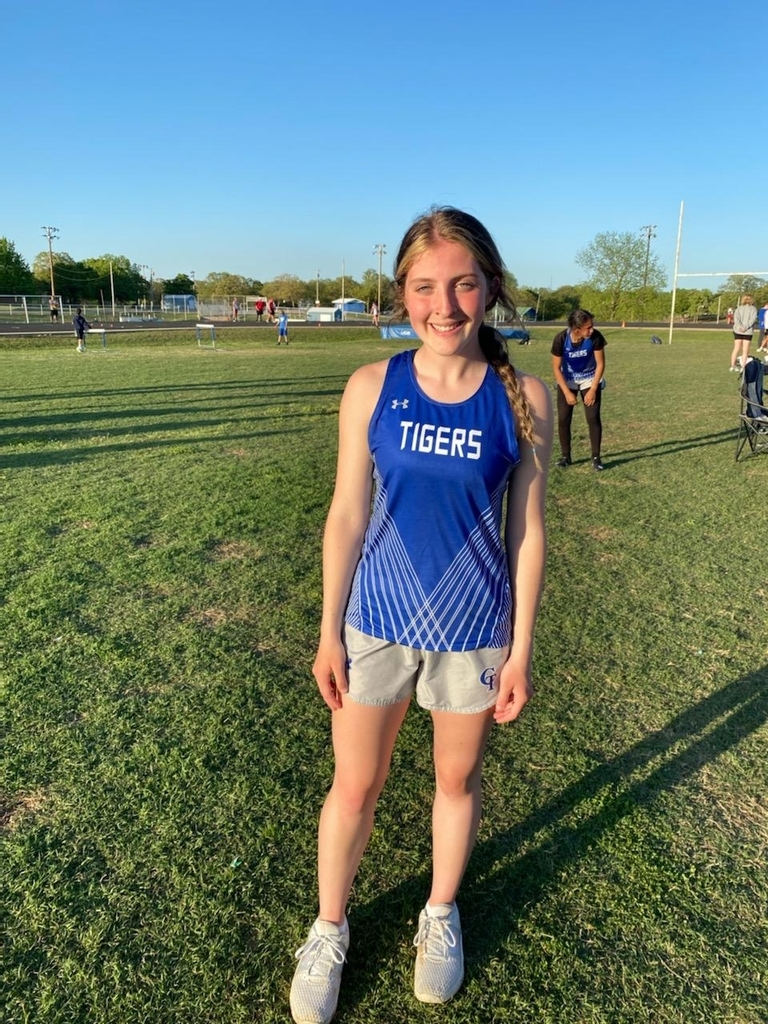 Congratulations to Eric Cunningham - 3rd place in Long Jump at Regionals. Good luck at state! Go Tigers!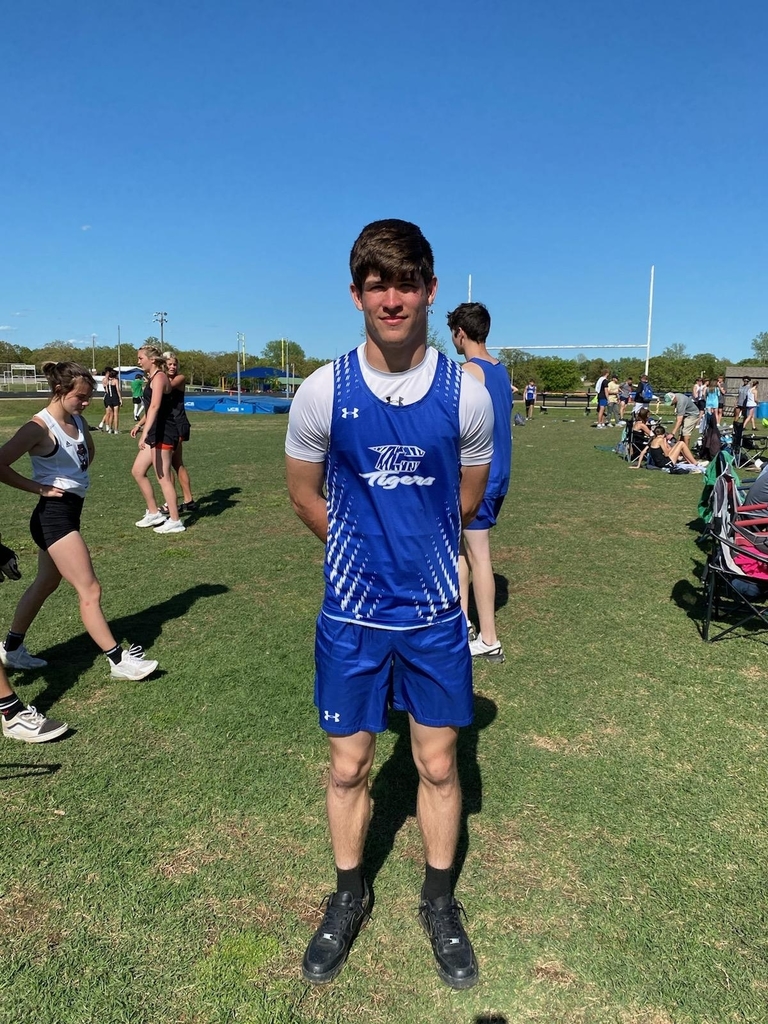 Congratulations to Raegan Wilson - State Qualifier for 3 events - 4x800m, 800m and 400m. 3-3rd place finishes at Regionals. GO TIGERS!!!!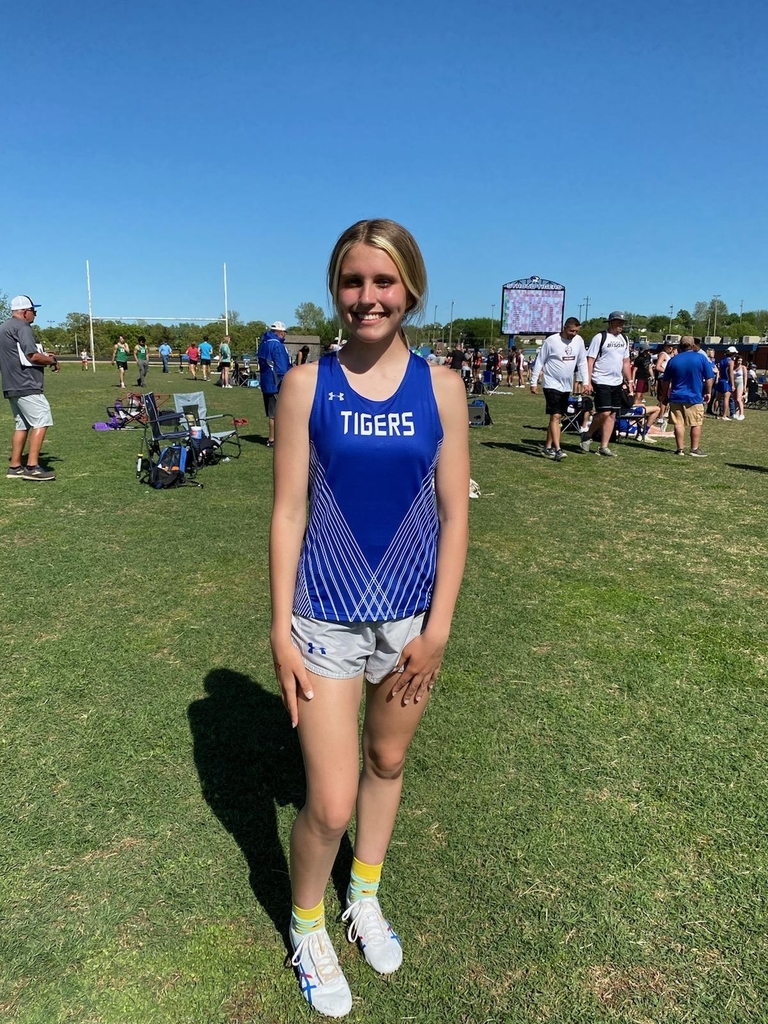 Congratulations Lacy Brough - 2nd place in Long Jump at Regionals. Good luck at state! Go Tigers!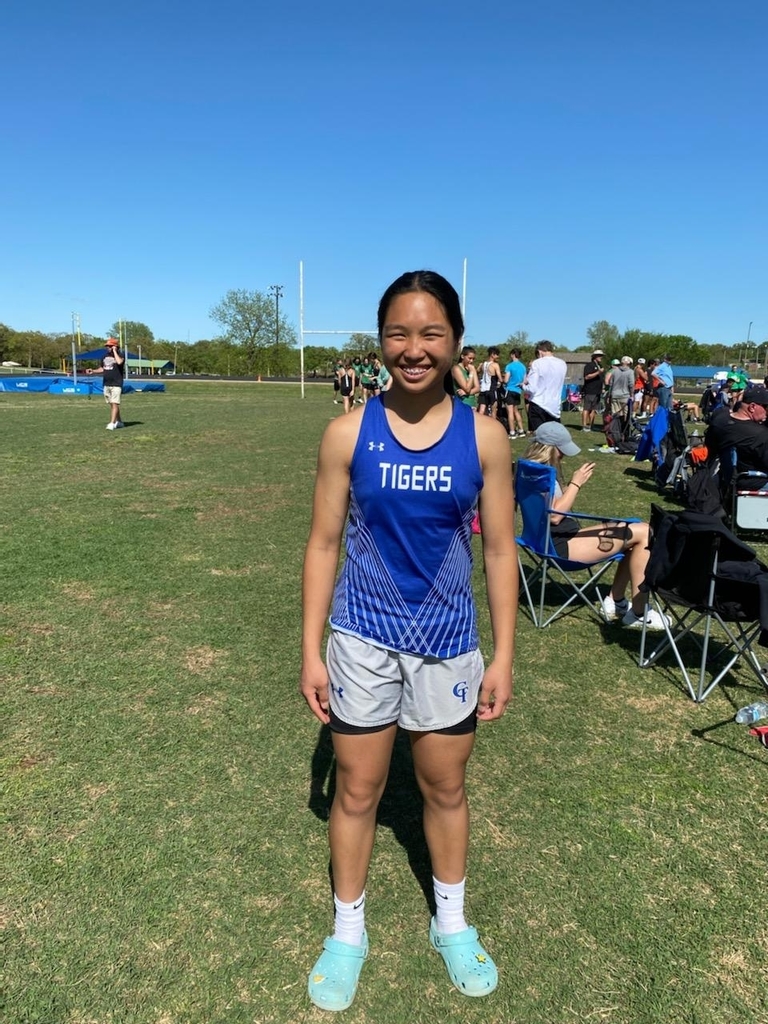 Going to state!!! Girls 4x8 takes 3rd at regionals! Listed from left to right: Raegan Wilson, Baylee King, McKenzie Carter, Hannah Young, Lacy Brough. GO TIGERS!!!!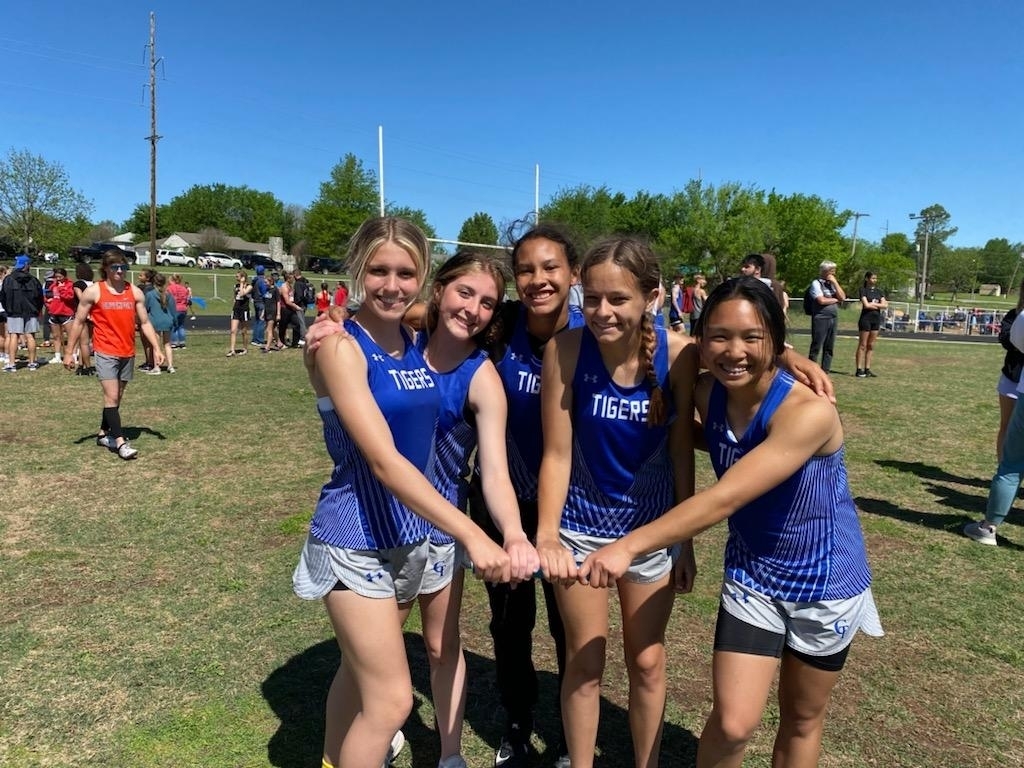 Parents: Chantel Barbee and Jeremy Spence School Activities: Senior Teacher Aid Honor/Awards: A & B Honor Roll, Freshman Year and Junior Year- Best Grade in Fitness After Graduation I plan to get a job doing work outside.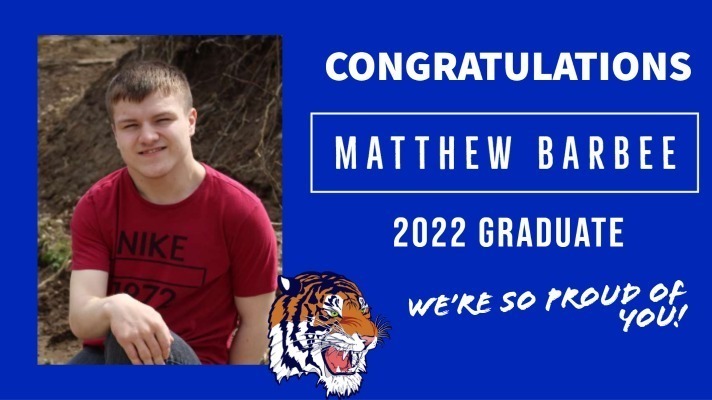 Parents: Ryan and Nakia Rutledge Activities/Clubs: NHS, FCA, Cheer for 2 years, Softball for 1 year, and Soccer for 4 years Honors/Awards: Academic State Champs in 2019 Plans after graduation: I will be heading straight to cosmetology school and eventually owning my own beauty salon.
Parents: Mari Saldana and Alfonso Saldana Activities/Clubs: Soccer, Science club, Spanish club, FCA club. Honors/Awards: Certified Nursing Assistant, American Heart Association BLS Provider, and Completing my Phlebotomy Tech Certification. Plans after Graduation: Taking a little bit of time off for baby Isaiah, then getting back on track using my Phlebotomy Tech Certification full time.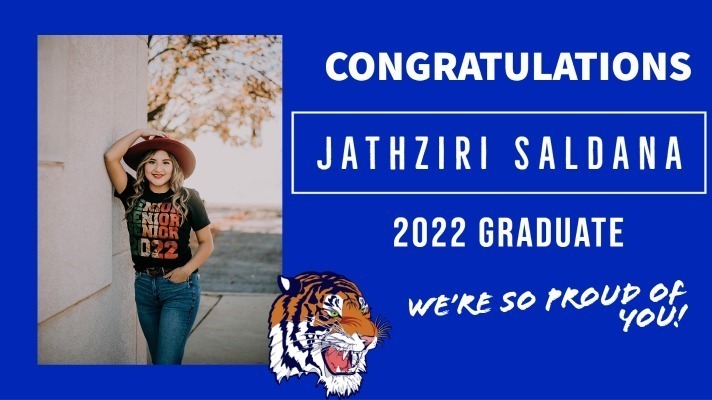 Parents: Kira and Greg Luttrell Football 3 years, Basketball 4 years, FCA 4 years, Science club 4 years, FCCLA- 1 year Football 2021 District Co-Defensive Player of the year Co-Valedictorian After Graduation I plan to attend NEO and pursue a career in nursing.
Parents: Victoria Medina and Eduardo Gutierrez Activities: Softball- 4 years, Soccer- 4 years, Cheer-3 years, TSA- 4 years, GT- 4 years, NHS- 2 years Achievements: Soccer- all district honors 2020 & 2021 Cheer- Regional Runner up & State Academic Champion 2019, State qualifier 2019 & 2021, Gameday State Finalist 2019, 2020, & 2021 TSA- Congressional Degree recipient 2019, Senatorial Degree Recipient 2020, Presidential Degree Recipient & TSA Honor Society inductee 2021, Eastern Region Reporter 2018-2019, Eastern Region Secretary 2019-2020, State Secretary 2020-2021, and State Reporter 2021-2022 NHS- Chapter Vice President 2021-2022 CHS Co- Valedictorian 2022 After high school, I will attend Rogers State University in the President's Leadership Class, majoring in Medical and Molecular Biology, then attend pharmacy school.